LEAPWORK is transforming work on a global scale. We are democratizing automation through our next generation visual language that everyone understands. Now non-technical people can easily train software robots to handle repetitive and mundane tasks. It matters because it impacts us all, from increasing our productivity to our job satisfaction. LEAPWORK robots are used by Global2000 companies in test automation, RPA, and systems monitoring across the world and in all industries, from banks and insurance companies to life science, government, and aerospace.
We're growing fast and are looking for a Journey and User Experience expert who will play a vital role in developing our next-generation platform for software robots on both a strategic and operational level. You will work in our Product Management team in Copenhagen and will refer directly to the CTO.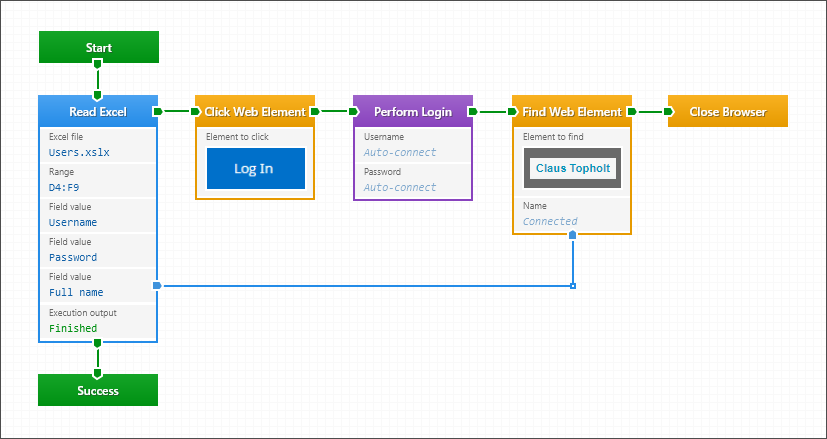 Come help us improve the visual language that powers our platform!
Why is this job for you?
On a strategic level, you will:
Innovate the LEAPWORK Automation Platform
Explore new product ideas
Execute design sprints to validate new ideas
On an operational level, you will:
Collect and analyze user feedback
Optimize existing features based on user feedback
Map user journeys
Produce UX and graphical design
Define and write user stories
Act as Product Owner for development teams
You are expected to work primarily from LEAPWORK's office in Copenhagen, but you should expect some traveling to our global locations.
Who are you?
You're a highly intelligent person with a holistic understanding of business contexts. You have a natural ability to work on a high level and then dive into details when preparing the next set of requirements for our development teams. You check most of these boxes:
Have an MA/MS degree in digital design and interactive solutions or similar
Have relevant experience as a Journey or User Experience expert, or Product Owner
Is completely fluent in business-level written and verbal English
Enjoys working in a fast-paced, global environment
As a person, you're:
Open minded, and love to explore new ideas
Able to see ideas from a holistic view, but have a sense for details
Passionate about your work, good humored and easy going
Helpful in establishing good relations between colleagues in various locations
As part of the LEAPWORK team, you'll be part of an exciting journey of a company offering a unique product with unlimited potential. As such, this job comes with plenty opportunities for you to grow personally and professionally. We offer competitive salary and benefits according to qualifications.
To apply, please submit your CV and cover letter to job@leapwork.com. If you have any questions, please don't hesitate to contact our CTO Claus Topholt at cto@leapwork.com.
We're looking to fill this position as soon as possible, and we will be inviting relevant candidates for interviews on an ongoing basis.