LEAPWORK's Dynamics 365 Customer Engagement (CE) package contains sample flows that allow you to get started quickly and easily with Dynamics automation.
The package contains six sample flows that demonstrate how to automate Dynamics 365 CE. Some of the functionality is contained in reusable components, making it easy for you to build your own automation flows.
All sample flow elements come in a zip file that can be imported into your existing installation of LEAPWORK.
Importing the package
To import the package into LEAPWORK, see the following steps:
In the Flows asset menu, choose a location for the package. It can be in any folder or at the root of the tree structure.

Right-click anywhere in the white space of the Flows asset menu and select Import.
In the File-Open window, select the downloaded zip file and click Open.
In the Import window, ensure that all folders are selected and click Import.


Click OK.


The Dynamics 365 package is now imported into the Flows asset menu and you can begin evaluating the sample flows.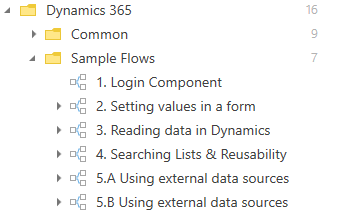 Watch tutorials on how to use the Dynamics 365 samples and components
Everything you need for Dynamics 365 automation
Learn more about how you can automate Dynamics 365 with LEAPWORK's no-code automation platform in our webinar: Automating Dynamics 365.