Selenium WebDriver is great for automating browsers, but as a stand-alone automation tool it has some limitations. This post compares script-based Selenium automation with LEAPWORK web automation.
Selenium is the world's most popular open-source framework for automating browsers. It includes WebDriver which is an API that can automate any action that takes place in a web browser.
WebDriver drives browser actions natively, meaning that it interacts with browser elements, like clicking on buttons, typing text in fields, etc., like a real user would.
The benefits of Selenium include:
Open source, free to use, and free of charge
Highly extensible
Can run cases across different browsers
Supports various operating systems
Supports mobile devices
Can execute cases while the browser is minimized
Can execute cases in parallel
Creating a Selenium script is a 7-step process as described in SauceLabs' Selenium introduction:
Create a WebDriver instance
Navigate to a web page
Locate an HTML element on the web page
Perform an action on an HTML element
Anticipate the browser response to the action
Record results using a framework
Conclude by quitting the browser and the WebDriver
Below is an example of how a Selenium script can look like.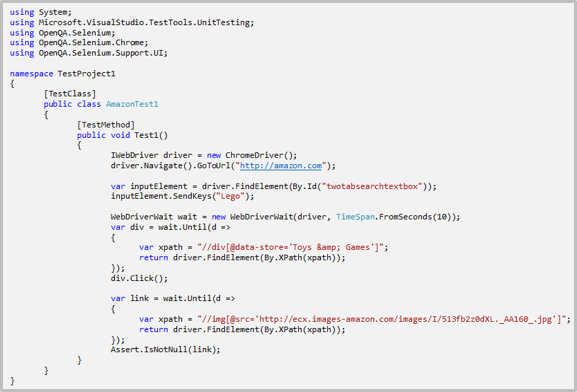 In this case, the WebDriver is instructed to:
open a Chrome browser;
navigate to the web page amazon.com;
input the term "Lego" in a search field;
wait for the page to load results;
click on one of the items in the search results, and then;
conclude the test case by verifying the presence of a specified image.
Selenium WebDriver is operated by writing code in one of several common programming languages (C#, JavaScript, PHP, Python, etc.)
Should you write automation cases using Selenium or build them with LEAPWORK?
Selenium WebDriver does come with some serious limitations (see table below), when used as a stand-alone tool. As illustrated by the case above, a considerable amount of programming proficiency is required to understand, let alone create, a relatively simple script.
Instead, by using a fully-featured automation tool which has incorporated the WebDriver in its technology, like the LEAPWORK Automation Platform, you can enjoy the advantages of WebDriver without having to worry about the tool's weakness:
'Pure' Selenium automation

LEAPWORK web automation
based on Selenium

Can only be controlled by programming.

Does not require the user to read or type a single line of code.

Building automation cases takes time, requires specialized programming knowledge, and generates a massive maintenance workload.

All web automation flows are built in and executed from the native LEAPWORK Studio where every browser action is represented by a building block containing all the hidden code and logic required to drive web automation commands.

Requires an automation framework.

Does not require an automation framework.

Can only automate web applications as it is not possible to access elements outside of a browser.

The LEAPWORK Automation Platform can access every element on a screen's UI. By combining the capabilities of LEAPWORK, the user can automate both web and desktop applications – and even across application types.

Does not come with a built-in object repository.

All elements and files (i.e. 'Locators') used in automation cases, like web elements, images, etc., are automatically saved in an object repository.

Data-driven automation is more complex since you must rely on the programming language's capabilities for setting values for your data.

Data-driven automation is easily done by visually connecting data sources to automation flows.

No official user support.

Access to on-demand support from automation specialists.

Has no native capability to record or export runtime data onto external formats.

Runtime data are automatically generated as logs and video recordings, and results can be pushed to release platforms and pipeline orchestrators.

Parameterization can be done via programming but is difficult to implement.

Parameterization does not require programming. You simple adjust the configurations of a building block or drag dynamic sources of inputs to the block.

No native support to generate bug reports.

Reports are automatically generated. These can be visualized in dashboards and exported to stakeholders.
See the video below for how a Selenium-based web automation case is built without writing scripts:
Dig deeper into web automation with the LEAPWORK guide on everything you need to know to automate web-based tests and processes.