What is


Web Automation?
Web automation is the concept of letting software robots perform actions, tasks, and processes that involves a web browser or web application.
What can you do with web automation?
Think of all the clicking and typing you do at your desk everyday that involve websites and web-based applications. All these actions can be automated with web automation. Examples of tasks include (inspired by Hacker Noon):
Filling out forms and fields

Scraping content from a web page

Extracting and transferring data between applications

Functional testing of websites and web applications across browsers and devices

And much more
Every day, in businesses of all sizes, there are scenarios where automating tasks like these would come in handy. For example: Importing contacts into a CRM system from a third-party service, testing the user experience and order handling of an online shop, integrating a web-based ERP-system with a document management platform in the cloud, and so on.
What is Selenium browser automation?
When talking about web automation, there is no way around Selenium, the world's most popular open-source framework for automating browsers. It consists of several components, but here we will cover the widely used Selenium WebDriver. All components of the Selenium suite, are open-source tools for automation of websites and web applications.

WebDriver is an API that can automate any action that takes place in a web browser. It drives browser actions natively, meaning that it interacts with browser elements, like clicking on buttons, typing text in fields, etc., like a real user would.

Selenium WebDriver is operated by writing code in one of several common programming languages (C#, JavaScript, PHP, Python, etc.)

Creating a Selenium script is a 7-step process as described in SauceLabs' Selenium introduction: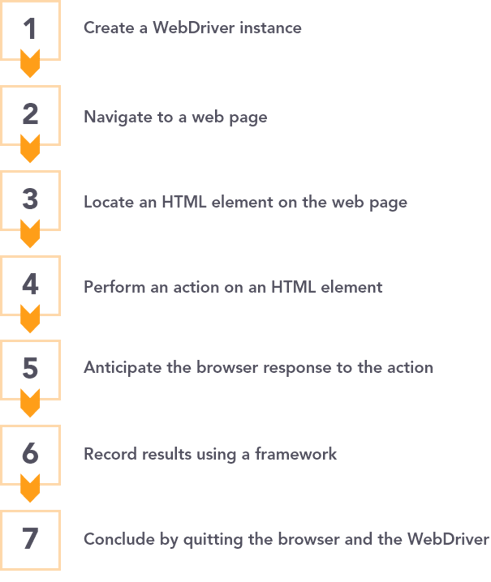 Below is an example of how a Selenium test script can look like. In this case, the WebDriver is instructed to:
open a Chrome browser;

navigate to the web page amazon.com;

input the term "Lego" in a search field;

wait for the page to load results;

click on one of the items in the search results, and then;

conclude the test case by verifying the presence of a specified image.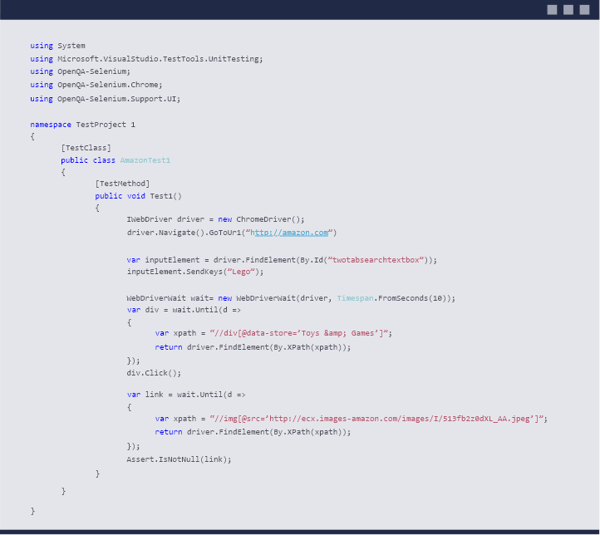 As illustrated by this case, a considerable amount of programming proficiency is required to understand, let alone create, a relatively simple script.

The other widely used component of the Selenium products is Selenium Grid.
What is Selenium browser automation?
Selenium is one of the most widely used frameworks for web automation, with good reason. The software's strengths include (Source: Guru99):
Open source, free to use, and free of charge

Highly extensible

Can run cases across different browsers

Supports various operating systems

Supports mobile devices

Can execute cases while the browser is minimized

Can execute cases in parallel