When talking about web automation, there is no way around Selenium, the world's most popular open-source framework for automating browsers.
The Selenium tool suite consists of Selenium WebDriver, an automation tool built for automating in the browser, Selenium IDE, a record and playback tool, and Selenium Grid, a parallel testing tool. In the following, we'll focus on Selenium WebDriver.
Learn more about Selenium automation in our whitepaper.
All components of the Selenium suite are open-source tools for automation of websites and web applications, and not other types of applications, such as desktop.
WebDriver is an API that can automate any action that takes place in a web browser. It drives browser actions natively, meaning that it interacts with browser elements, like clicking on buttons, typing text in fields, etc., like a real user would.
Selenium WebDriver is operated by writing code in a programming language, such as C#, JavaScript, PHP or Python.
Creating a Selenium script is a 7-step process as described in SauceLabs' Selenium introduction: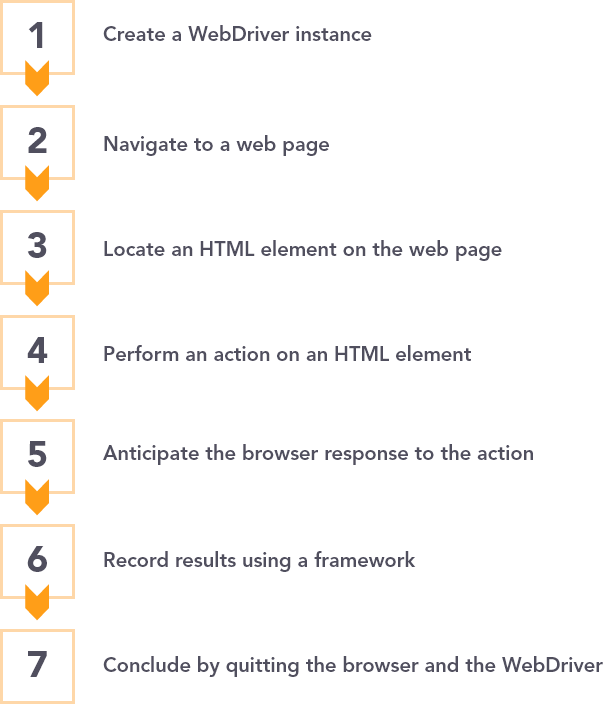 Below is an example of what a Selenium test script can look like. In this case, the WebDriver is instructed to:
Open a Chrome browser
Navigate to the web page amazon.com
Input the term "Lego" in a search field
Wait for the page to load results
Click on one of the items in the search results, and then
Conclude the test case by verifying the presence of a specified
As illustrated by this case, a considerable amount of programming proficiency is required to understand, let alone create, a relatively simple script.