When it comes to executing web automation flows, there are two major concepts you need to know about:
Hosted environments: This is about executing automation flows across devices and systems using cloud-based services.
Parallelization: This means running automation flows on several machines at once.
How to set up hosted environments for automated web testing
To deliver a great end-user experience, web applications and websites must work across multiple browsers, browser versions, operating systems, and devices, including mobile.
With all the possible combinations, there is a large number of usage scenarios to be tested. One provider of hosted environments for automated web testing, Sauce Labs, at one point identified more than 2,000 devices and more than 800 browser-OS combinations – and those were just the most commonly used.
From a testing perspective, a question presents itself: Is it necessary for your organization to host all the possible combinations of browsers, operating systems, and devices in your own infrastructure to support automated web testing?
This would come with additional costs and a massive administrative burden negatively impacting the business case for test automation.
Fortunately, you can outsource the hosting of test environments to vendors such as BrowserStack and Sauce Labs.
What follows is a walk-through of how to use hosted environments for web automation.
Besides access to a provider of hosted environments, setup only requires a few things: A suite of automated test cases ready to be executed, and a service running the test cases, called the Controller.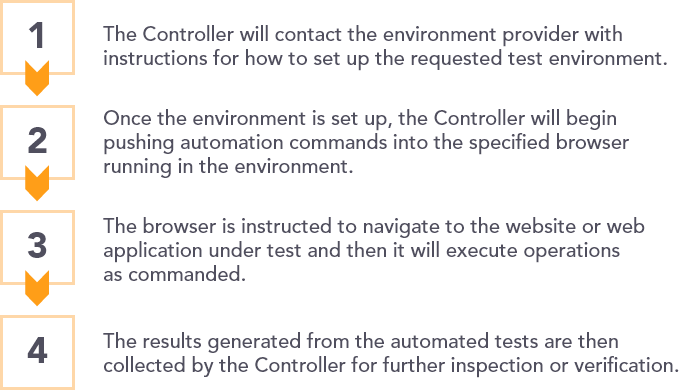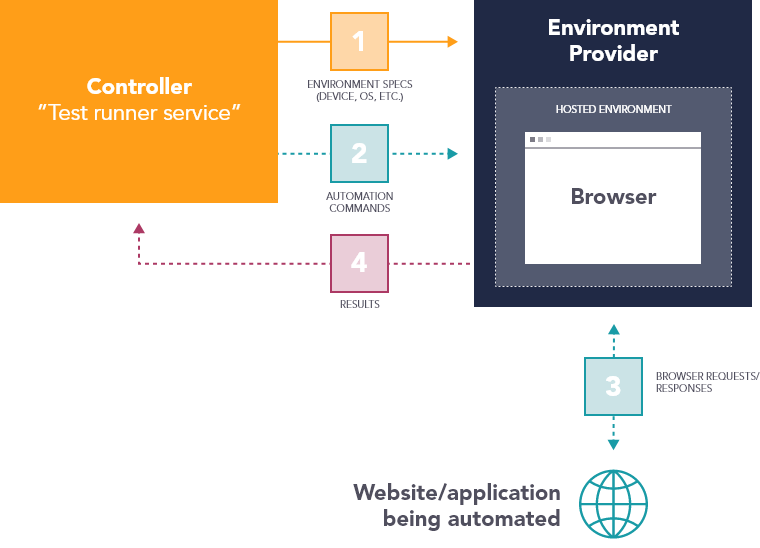 With this setup, a test team does not have to worry about preparing and maintaining the machines and devices on which the test cases are executed. For example, it is not necessary to purchase, maintain, and charge multiple mobile devices.
Continued reading on how to:
Automate Web Testing Across Browsers and Devices
Parallelization of Web Automation
Besides using environments hosted by cloud-based providers as described above, there are other ways to parallelize web automation, including execution agents and Selenium Grid.
Execution Agents – on local, remote, or virtual machines
An execution agent is a piece of software that is installed on every machine where automation cases are run.
Agents allow for a great deal of flexibility, as they can execute automation commands on both local, remote, and virtual machines. Agents can be installed in multiple and separate environments, including cloud servers. This enables easy collaboration across teams and even across organizations, for example, if you work with an automation partner.
Selenium Grid
Selenium Grid is a server for setting up different environments in which automation cases are executed. It is based on a Hub-Node concept and can be set up in your own infrastructure.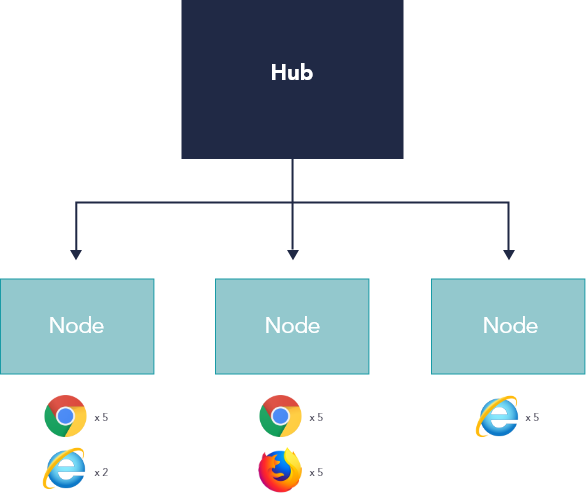 The Hub is the central machine running the automation cases, and the Nodes are different machines on which the actual browser automation takes place. The advantage of Selenium Grid is the ability to run multiple cases in parallel across different browsers, operating systems, and machines.
Tutorial:
Setting up a Selenium Grid